SPECIALS (September 4th - October 3rd 2017)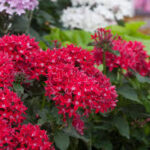 PENTAS LANCEOLAT "STARCLUSTER RED" (see photo above)
Pentas Lanceolat "Starcluster Red" Large clusters of starry red flowers on sturdy stems. Lover hot and humid conditions and requires only low maintenance. In full sun, needs regular watering, grows 18-24 inches tall and 16-20 inches wide. 5Gal.

Reg. $16.00 now $12.00!
Parthenocisses 'Boston Ivy' Popular clinging vine with purplish new growth, large lobed leaves mature to green before turning a brilliant dark purple for fall. Valued for quick cover of brick or stone walls and fences. Deciduous. Grows well in areas partial to full sin, needs regular watering.  5 gal size.
Reg. $18.00 Now $14.50!
Tipuana "Tipu" Moderately fast growing, semi-deciduous. Flowers yellow blossoms during the summer months and could reach 20-30 feet high and wide.  15 GAL
(Reg. $65.00)…Now Only $45.00!
5 gal. Reg. $16.00 Now $12.00!!
Glossy Abelia "Pink" – Has white bell-shaped flowers, use as screen, hedge, or barrier. An evergreen. Moderate grower 4′ – 6′ tall and 5′ wide. Summer bloomer.
Heavenly Bamboo "Nandina Domestica" Lacy green leaves on upright cane-like stems turn brilliant red in autumn. Clusters of tiny cream-colored red flowers are followed by bright red berries. Best use for screening or in borders. Is an evergreen shrub, works in partial to full sun. Water occasionally more in extreme heat, moderate growing 6 to 8 ft tall and 3 ft. wide
COLOR & GROUNDCOVER FLATS
Color: 'Dianthus' – flowers in solid and multi colored flats. Available for spring and summer! (6-pack flats)
Reg. $15.50 … Sale $13.00
Ground Cover: "Moneywort" Requires consistently moist soil. Sun to partial shade. Blooms bright yellow color late spring to early summer. (g.c.flats)
Reg. $12.00 Sale $10.50
Tibouchina 'Princess Flower' Beautiful tropical look from an evergreen shrub with deep-purple flowers that will bloom throughout the summer. Works in partial to full sun areas, needs regular water, weekly or more often in extreme heat. 5 gal.
Reg. $24.00 Sale $18.00
QUESTIONS??? Email us at elegantgardensnursery@gmail.com
***subject to change w/o notice
***limited to stock on hand ONLY
***excludes special orders
***CANNOT combine with other discounts