SPECIALS (Nov 6 - Nov. 20, 2017)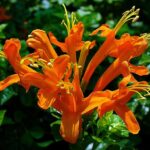 Tecoma capensis "Cape honeysuckle" (see photo above)
Tecoma capensis "Cape honeysuckle" Large clusters of orange tubular flowers that attract hummingbirds. An erect, scrambling shrub. Works in full sun to part sun, and is low water once established, grows 7-10' tall and wide but can be kept at any height with pruning. 5Gal.
Reg. $16.00 now $12.00!
Bouganvillea 'Orange' Is a genus of thorny ornamental vines, bushes and trees with flowers-like spring leaves near its flowers. The flowers of the bougainvillea can be in several different colors from pink, to red, to orange, to white and yellow. 5 gal size.
Reg. $18.00 Now $14.50!
Melaleuca quinquenervia"Paper Bark Tea Tree" Is a medium sized tree, is tough and reliable in dry conditions though it looks best with regular deep watering. Flowers are white similar to the look of a bottle brush flower, and blooms from early spring to early autumn. Has evergreen foliage, reaching a height of 30 -50 ft and 20-35 ft wide. 15 GAL
(Reg. $65.00)…Now Only $45.00!
Rosmarinus Officinalis Postratus 'Trailing Rosemary' A hardy fast-growing evergreen shrub, creeping rosemary, attractive flowers and fragrance during spring time, with a dark green leaves. Grows 6-12 inches high, requires full sun and medium moisture.
Nassella tenuissima "Mexican Feather Grass" Has a graceful and delicate fine texture. It grows out in a cascade like a beautiful fountain.  Mexican feather grass naturally reseeds and naturalizes on slopes or rock gardens. Grows best in full sun, once established becomes drought tolerant.  It is moderate growing to1-2  ft tall and as wide.
5 Gal (Reg. $18.00)…Now Only $12.00!
COLOR & GROUNDCOVER FLATS
Color: Add color to your yard with our colorful (6-pack flats) of 'Pansies' flowers in solid colors or multi-colored flats available for fall planting for color into spring
Reg. $15.50 … Sale $13.00
Ground Cover: "White Myoporum" Requires moist soil when establishing as it roots where the stems touch the ground.  Becomes drought tolerant once established.  Best in sun to partial shade. Blooms little white flowers spring into fall.  Does great on slopes and looks like a green cascade.(6-pack flats)
Reg. $12.00 Sale $10.50
Tibouchina 'Princess Flower' Shrub type. Beautiful tropical look from an evergreen shrub with deep-purple flowers that will bloom throughout the summer. Works in partial to full sun areas, needs regular water, weekly or more often in extreme heat. 5 gal.
Reg. $16.00 Sale $12.80
QUESTIONS??? Email us at elegantgardensnursery@gmail.com
***subject to change w/o notice
***limited to stock on hand ONLY
***excludes special orders
***CANNOT combine with other discounts