SPECIALS (October 4 - 21, 2017)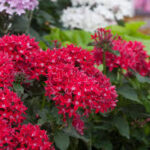 PENTAS LANCEOLAT "STARCLUSTER RED" (see photo above)
Pentas Lanceolat "Starcluster Red" Large clusters of starry red flowers on sturdy stems. Lover hot and humid conditions and requires only low maintenance. In full sun, needs regular watering, grows 18-24 inches tall and 16-20 inches wide. 5Gal.

Reg. $16.00 now $12.00!
Parthenocisses 'Boston Ivy' Popular clinging vine with purplish new growth, large lobed leaves mature to green before turning a brilliant dark purple for fall. Valued for quick cover of brick or stone walls and fences. Deciduous. Grows well in areas partial to full sin, needs regular watering.  5 gal size.
Reg. $18.00 Now $14.50!
Rhus Lancea "African Sumac" Is a dense shade tree, is tough and reliable in dry conditions though it looks best with regular deep watering. Has evergreen foliage, reaching a height of 20-30 ft and 20-35 ft wide. 15 GAL
(Reg. $65.00)…Now Only $45.00!
5 gal. Reg. $18.00 Now $12.00!!
Miscanthus Sinensis 'Zebra Grass' Zebra grass can grow up to 6 ft height and produces a spectacular screen or specimen plant. Provide a full sun environment and plenty of water for best growth. Plant work well in containers but will need more water than those in garden bed.
Pennisetum "Green" is an evergreen drought tolerant grass that grows 2-3 ft height and 2 ft wide
COLOR & GROUNDCOVER FLATS
Color: 'Snapdragons' – flowers in solid and multi colored flats. Available for spring and summer! (6-pack flats)
Reg. $15.50 … Sale $13.00
Ground Cover: "Moneywort" Requires consistently moist soil. Sun to partial shade. Blooms bright yellow color late spring to early summer. (g.c.flats)
Reg. $12.00 Sale $10.50
Tibouchina 'Princess Flower' Beautiful tropical look from an evergreen shrub with deep-purple flowers that will bloom throughout the summer. Works in partial to full sun areas, needs regular water, weekly or more often in extreme heat. 5 gal.
Reg. $24.00 Sale $18.00
QUESTIONS??? Email us at elegantgardensnursery@gmail.com
***subject to change w/o notice
***limited to stock on hand ONLY
***excludes special orders
***CANNOT combine with other discounts