SPECIALS (Jan. 15 - Jan. 31, 2018)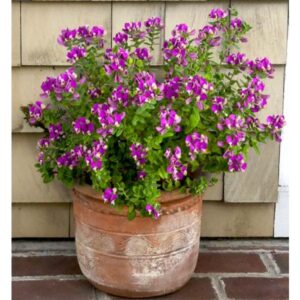 Polygala fruiticosa "Petite Butterflies" (see photo above)
Polygala fruiticosa "Petite Butterflies" Masses of purplish pea like flowers on mounding chartreuse grey green foliage. It has a really long bloom season, nearly year round in our area due to mild climate. Can take partial to full sun, likes moderate water, and grows to be 3' tall and wide. 5Gal.
Reg. $16.00 now $14.00!
Pandorea jasminoides 'Veriegata' 'Variegated Bower Vine' An evergreen vine with leaves split into 5-7 shiny oval leaflets that have a cream variegation that add color even when not flowering. Pretty funnel-shaped pure pink flowers with deeper colored throats. Blooming from spring to fall. Can reach 20-30' tall Tolerates sun or shade. 5 gal size.
Reg. $18.00 Now $16.00!
Podocarpus gracilior "Fern Pine" Beautiful lush green foliage used for a screening hedge or fast growing tree. Can tolerate sun to part sun with moderate water needs. Fast growing from 40-50ft tall and 25ft wide. Can be kept smaller and trained as hedge.
15 GAL (Reg. $65.00)…Now Only $55.00! 
5Gal staked 9Reg.$18.00) Now only $16.00!!
Coleonema pulchellum 'Pink Breath of Heaven A Beautiful shrub with an airy nature. Grows 4-5 tall and wide and tolerates sun or shade. Flowers can be pink or white depending on variety and blooms late winter into spring.
Leptospermum scoparium 'Newzealand Tea Tree' An evergreen shrub with graceful upright growth when young growing moderately into an attractive shrub or multi-trunked tree up to 2-20' tall and wide but can be kept smaller with pruning. Full sun to partial shade.  Covered with blossoms in either red, pink or white. Blooms from fall into winter.
5gal. (Reg. $16) …Now $14.50!!
COLOR & GROUNDCOVER FLATS
Color: Add color to your yard with our colorful (6-pack flats) of 'Snapdragons' flowers in solid colors or multi-colored flats available for fall planting for color into spring.
Reg. $15.50 … Sale $13.00
Ground Cover: Lampranthus productus "purple Iceplant" Add color to any slope. Purple blooms in winter to spring. Little or no water. Can tolerate full sun. Height 15"and 24" wide. (g.c.flats)

Reg. $12.00 Sale $10.00
Agapanthus 'Tinkerbell'  This little beauty is a dwarf variegated agapanthus used for its bright foliage and compact size to brighten up darker areas of your garden. Grows 6-12 inches tall and bears clusters of blue tubular flowers on tall stalks. Medium water needs and can grow in sun or shade. 1 gal
Reg. $11.00 Sale $9.50
QUESTIONS??? Email us at elegantgardensnursery@gmail.com
***subject to change w/o notice
***limited to stock on hand ONLY
***excludes special orders
***CANNOT combine with other discounts