SPECIALS (July 10th- July 22nd, 2017)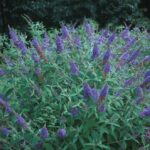 BUTTERFLY BUSH (see photo above)
Buddleja "Butterfly Bush" Evergreen shrub, full sun to light shade. Likes moderate to regular water. Grows up to 8' ft tall and 6' ft wide, comes in different colors white, purple and lavender.. 5Gal.

Reg. $16.00 now $12.00!
Pandorea Jasminoides 'Bower Vine' Evergreen vine, fast growth, blooms from late spring to early fall producing pink-throated white flowers. 5 gal size.
Reg. $18.00 Now $14.50!
Tipuana Tipu, Semi-evergreen tree, full sun and regular water. Grows to 25-40 ft tall and 30-60 ft wide. Blooms from late spring to early summer, bearing clusters of apricot to yellow sweet [ea-shaped flowers. Good street tree or lawn tree. 24" box
Reg. $160.00 Now Only $100.00!
5 gal. Reg. $16.00 Now $12.00!!
Glossy Abelia "Pink" – Has white bell-shaped flowers, use as screen, hedge, or barrier. An evergreen. Moderate grower 4′ – 6′ tall and 5′ wide. Summer bloomer.
Lantana Trailing "Lavender" – Popular evergreen ground cover prized for its masses of lavender flowers that appear almost year-round. Needs full sun & occasional watering once established. Quickly reached 8″-12″ tall and 3′-6′ wide.
COLOR & GROUNDCOVER FLATS
Color: 'Petunia' – flowers in solid and multi colored flats. Available for spring and summer! (6-pack flats) Reg. $15.50 … Sale $13.00
Ground Cover: Herniaria "Green Carpet" Great choice for growing between flagstone. Works in partial to full sun areas, water regularly, when top 3 in. of soil is dry, forms creeping mat 10 to 12 in. wide. (g.c.flats)
Reg. $12.00 Sale $10.50
Gardenia 'Veitchii' sometimes sold as "ever blooming gardenia" compact from 3-4 ½ ft. tall to 6 ft wide, oldest variety but still the most reliable bloomer, rose-like, pure white blooms. 5 gal.
Reg. $20.00 Sale $14.50
QUESTIONS??? Email us at elegantgardensnursery@gmail.com
***subject to change w/o notice
***limited to stock on hand ONLY
***excludes special orders
***CANNOT combine with other discounts